Jan 14, 2017
The biggest festival of lights in Korea has kick-started its holiday festivities, welcoming visitors of all ages for a nighttime visit to one of the most famed gardens in the nation. The Lighting Festival at
The Garden of Morning Calm
(아침고요수목원) in Gyeonggi Province will be illuminated by 30,000 lights every night until March 26.
Colorful lights will adorn trees throughout the tourist hot spot's main gardens including the Hakyung Garden, Hometown House Garden, Bonsai Garden, Moonlight Garden, Sky Path and Garden of Eden.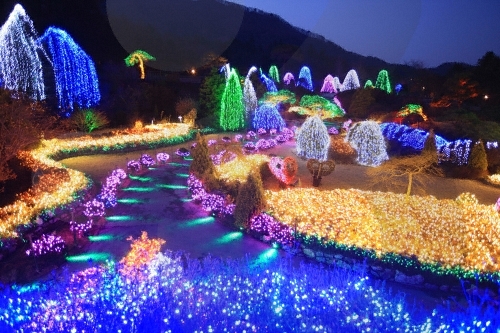 The Garden of Morning Calm is open from 11 a.m. to 9 p.m. on weekdays and on Sundays, and from 11 a.m. to 11 p.m. on Saturdays and national holidays. The festival's winter lights will be turned on at 6 p.m.
For more information, go to morningcalm2.cafe24.com.
kingkingma
Source:The Korea Herald
Photos:Garden of Morning Calm