Sep 2, 2017
Avec El interior
Avec El
is French for "with him," and the sweet interior decorated with lovely items is just as romantic as the name implies. One's heart can't help but be moved by the items of daily life that might decorate any home, from the hand-made candles to the air fresheners and tea cups. All of the items on display within the café are available for purchase. Despite being a rather small café, each table has plenty of space to enjoy a comfortable and laid-back time.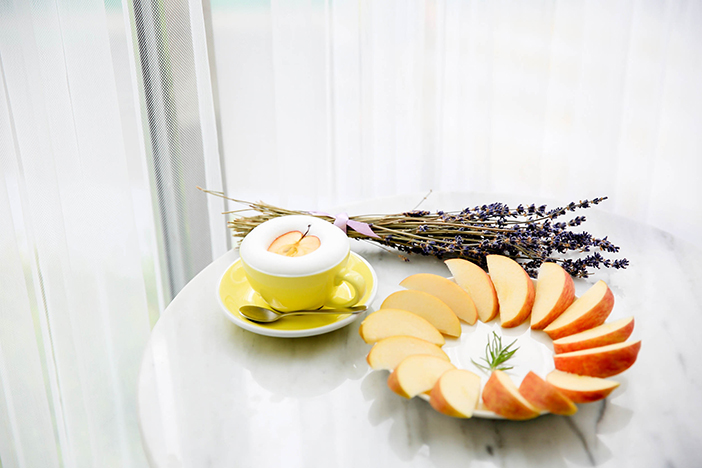 Avec El's signature menus

The focus at Avec El is on apples; a plate of freshly sliced apple comes with each order. The ringo latte which can only be found here is a perfect blend of apple and milk. If you find yourself in need of some caffeine, we recommend the macha aurora, a green tea latte with a shot of espresso added for a kick.
During the hot summer months, many people order summer forest toast and mango soda. Summer forest toast, a specialty of Avec El, features jam made from Jeju green tea powder and fresh peaches, red bean paste, and gourmet butter for three tastes in one. The earl grey chiffon cake is also extremely popular, releasing a strong scent of tea that is sure to boost one's mood for the entire day.
☞ Address: 29, Duteopbawi-ro 69-gil, Yongsan-gu, Seoul
☞ Directions: Seoul Station (Seoul Subway Line 1, 4, Airport Railroad), Exit 11. Walk approx. 15min.
☞ Operating hours: Monday-Saturday 12:00-20:00
☞ Signature menus: Ringo latte 6,000 won / Mango soda 6,500 won / Summer forest toast 6,000 won / Earl grey chiffon cake 6,500 won
kingkingma
Source:Korea Tourism Organization